Emergency Supplies
With winter coming, there are a number of emergency supplies you should always have in your vehicle. You never know what type of emergency you might run into, so don't tempt fate by not having what you need on hand. Here is a basic list of the emergency supplies your truck should be equipped with.
1. Road Flares
Every truck should be equipped with a set of road flares. Not only can these be used to mark your location in the event of an accident, they can be used to start fires in an emergency, especially in wet or snowy weather.
2. Water
No matter what time of year it happens to be, you should always have at least one gallon of potable water stashed away in your truck. If you are planning a longer than normal trip, you should try to find storage space for three gallons.
3. Food
Being stuck...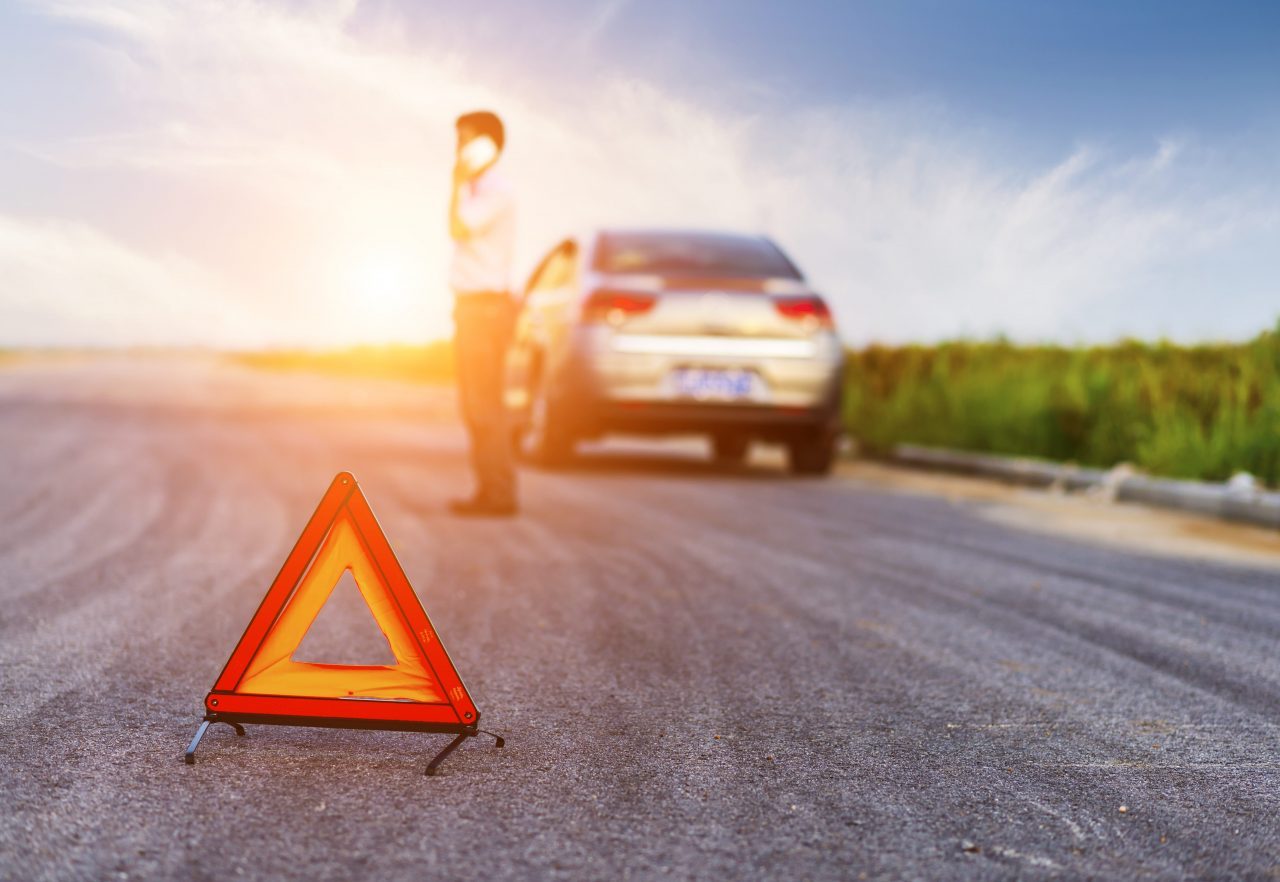 FALL CAR CARE MONTH
October is Fall Car Care Month! What a great time to get your vehicle ready for cooler weather! Now is the perfect time to give your vehicle some TLC as the days become shorter and the weather changes.

Follow our Simple Fall Maintenance Checklist below:
Wash & Wax
Clean the Inside too
Inspect the tires & Tire Pressure
Inspect your Wiper Blades
Check under your hood
Check Alignment & Suspension
If vehicle maintenance is not your thing, don't worry, stop by our service department today and our certified technicians are available and ready to help make maintaining your vehicle simple and convenient. Take the stress out of servicing your vehicle by scheduling an appointment at our Nederland repair center, as we offer outstanding techniques and services savings. We can handle services from...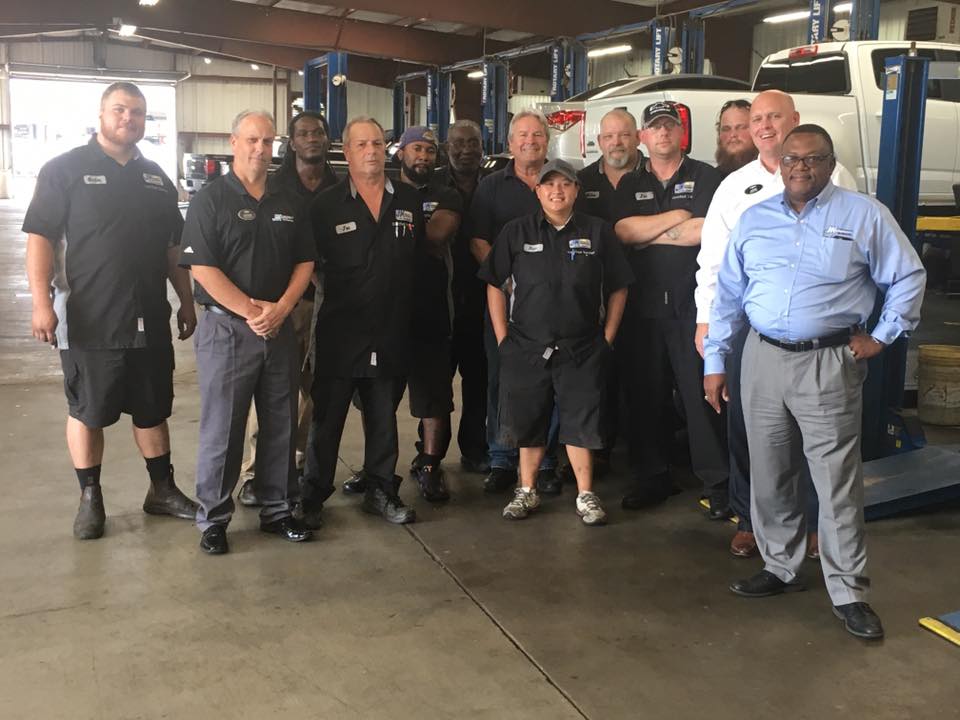 THE COMPLETELY REDESIGNED 2018 CHEVROLET TRAVERSE IS SURE TO IMPRESS
SUVs continue to grow in popularity and with 40% market share it's clear they have won the vehicle sales race, at least for now. So why the growing popularity, you might ask? Well it could be anything from ride height, to an active lifestyle, to weather related and feeling more confident on the road. I mean, we also can't forget about the flexible and functional nature of an SUV.
As the SUV trend rises, this has encouraged Automakers to up their game with more advanced and innovative technologies bringing you the 2018 Chevrolet Traverse. The Traverse has built a solid following over the years, making it one of the top SUV choices among families. But what is especially cool, is that the 2018 Traverse makes for the model's first full redesign since its debut 9 years ago. The Traverse enginee...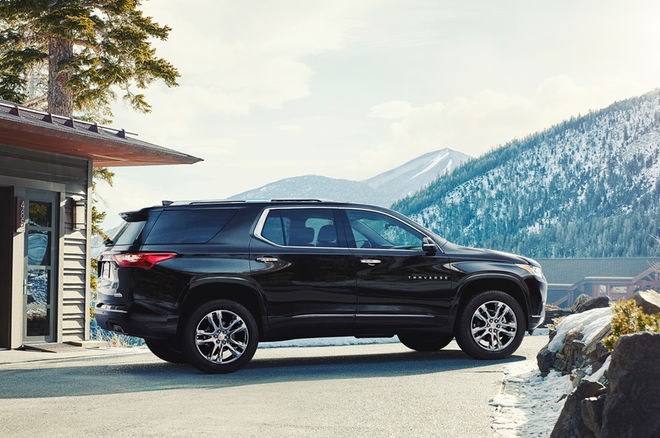 On Monday, August 21, 2017, North America will be able to witness a total eclipse of the sun.
If you're lucky enough to be in the Path of Totality, you'll be able to see what eclipse chasers call an "emotional, startling, sensational, and life-changing" event. Eclipse chasers are known as umpraphiles, or shadow lovers.
This is the nation's first total solar eclipse since 1979 and the first to cross from the West Coast to the East Coast since 1918. NASA and the National Park Service advises travelers to stock up on water, snacks, sunscreen -- and your solar eclipse viewing glasses -- before leaving home.
Eclipse Tip: During totality, make sure to spend a few moments enjoying the 360 degree "sunset" all around you.
Here are the best U.S. cities within the eclipse's path of totality to watch the spectacular sky show:
Starts at 9:05 a.m. PDT and totality begins at 10:17...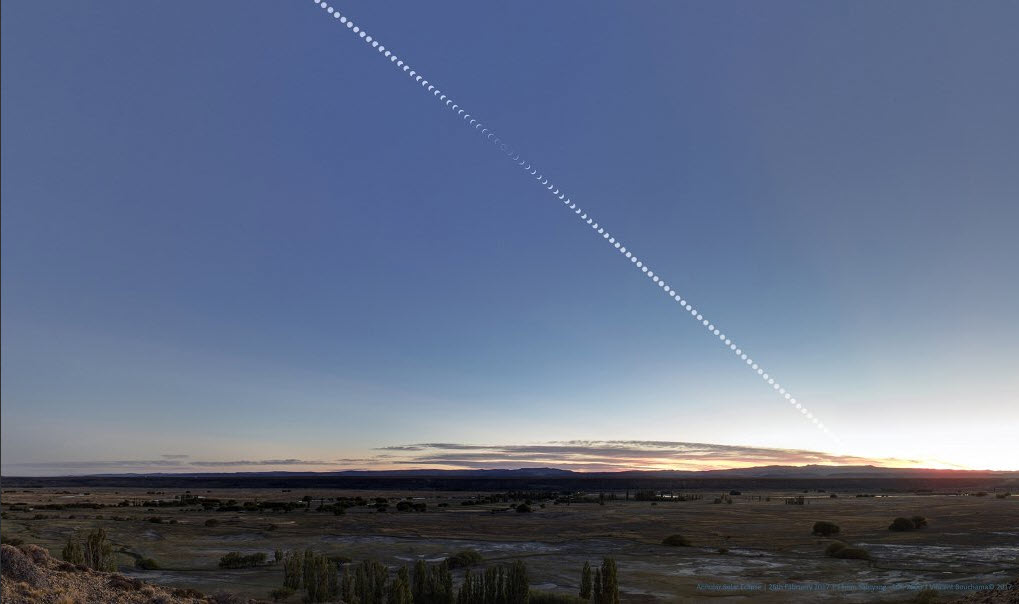 Music is Essential Fuel for Summer Roadtrips
Texas is a great state to get out and explore. Whether you're listening to the latest podcast or NPR channel, you might just end up wishing you had some great music along for the ride. Music and road trips go hand in hand, and if you're looking for some new tunes, there are many places to find and download music:
iTunes Store
Amazon MP3
Spotify
Napster
eMusic
7digital
There are even more places to find a good song list. But how do you entertain the whole family? Or your best friend who decided to take his or her vacation time, so they could drive with you across the country. Or just Texas.
If you're travelling with your family, show tunes are always a great choice. Most of us can even sing along to some of the old standards:
South Pacific
West Side Story
My Fair Lady
Bye, Bye Birdie
Gre...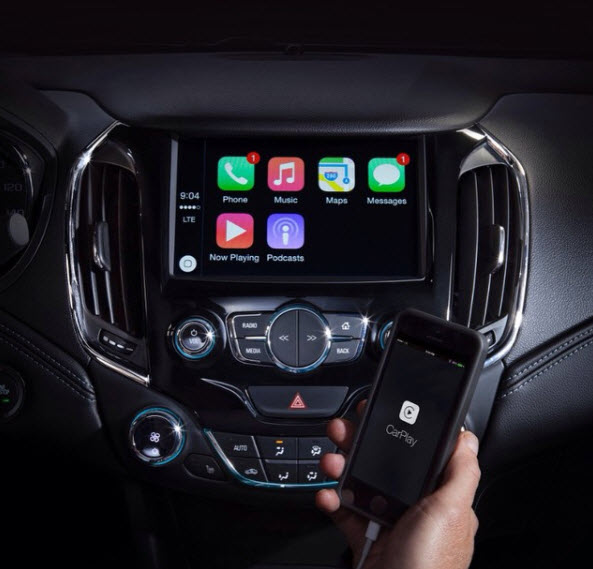 Safety Tips for Kids & Dogs
Summer weather means hot temperatures and the inside of cars get even hotter so remember it is never OK to leave kids or pets in a car -- even with the windows down.
Kids are more susceptible and at higher risk for heat-related illness and injury than adults because their bodies make more heat relative to their size and their abilities to cool through sweating are not as developed as adults.
On a day that is just 72 degrees Fahrenheit, the temperature [inside a car] can increase by 30 to 40 degrees in an hour, and 70% of this increase occurs the first 30 minutes. If you suspect your child has heatstroke consult a doctor immediately and provide fluids. Give your child as much cold water as he will drink. Do this until he feels better. If you have a sports drink such as Gatorade, give it ins...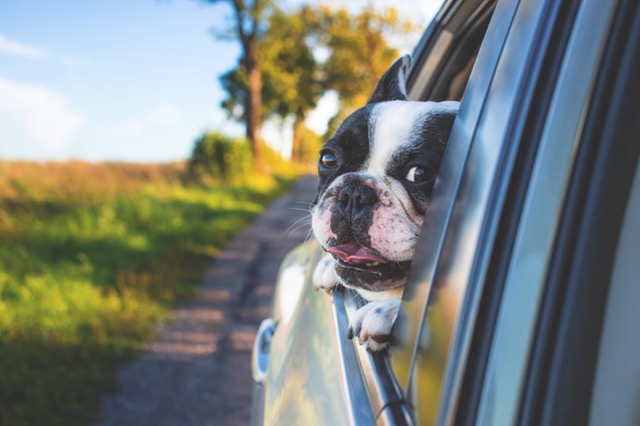 Traveling With Your Pet
May is National Pet Month. Warm weather can mean more time in the car and on the road with a furry family member. JK Chevrolet has compiled tips to keep in mind when traveling with your pet.
Crate Your Pet
Many people feel guilty about crating their animals on a trip, but it's for their own safety. Just make sure the crate is well-ventilated and large enough for them to stand, lie down, and turn around in. You should also ensure that the crate won't shift during sudden maneuvers.
Dogs in cars
When driving, there are a few different options for safely transporting pets. Use a dog carrier that is large enough for them to stand and turn around in. Letting your dog roam free in the car without restraint is never a good idea, however some dogs might tolerate a canine seatbelt, which is a harness...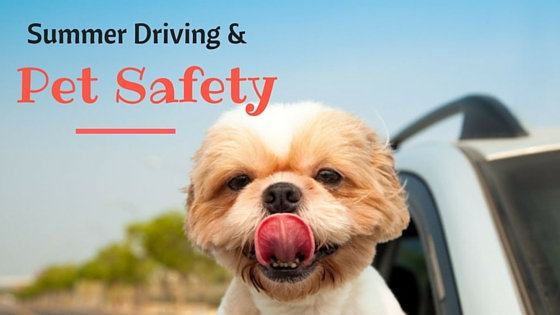 SILVERADO SPECIAL EDITIONS
If you're looking for a new Chevy truck, you have your pick among several models.
Truck owners love personalization. That's why Chevy offers a number of different Silverado Special Editions so that you can find exactly the right one for your inner truck personality. Click through for more detail.
Redline
Available on LT Z71 double cabs and LTZ Z71 crew cabs
20-inch black wheels with red accents
Black Silverado badges with red outline
Red tow hooks
Silverado HD Midnight Editions
Black 18" wheels
Goodyear Wrangler DuraTrac® off-road tires
Black bumpers and grille
Black Chevy bowtie emblems
Midnight
Available on select Crew Cab and Double Cab models†
Black 18" wheels
Black Chevy bowtie emblems
Black door handles and mirror caps
The Silverado 1500 Rally 1 and Rally 2 Editions
Rally 1
Rally striping on ho...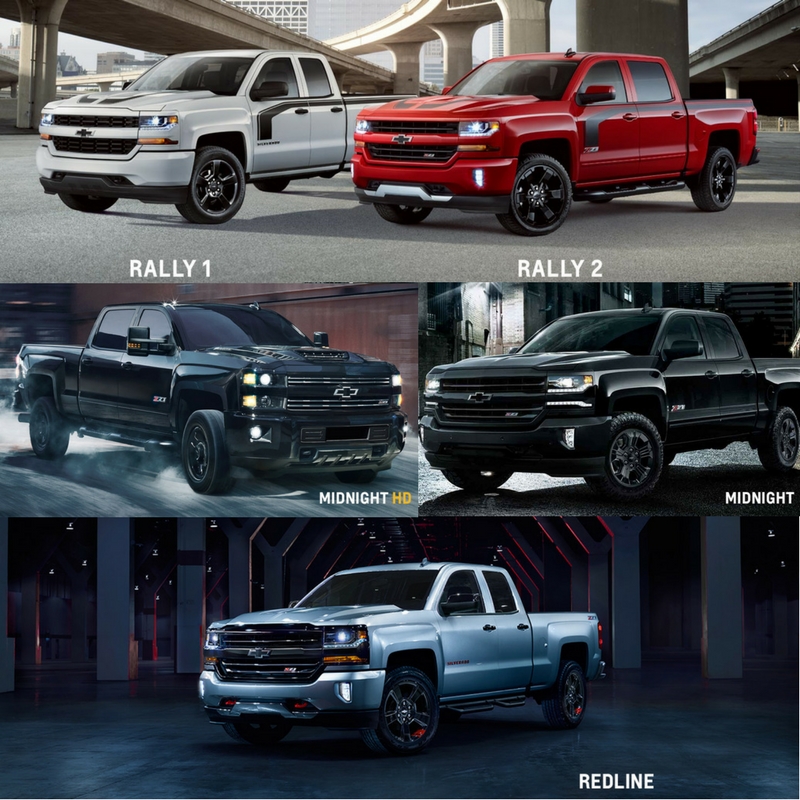 The 2017 Chevy Silverado 2500 HD
The 2017 Silverado 2500 HD will have more power, tech, and strength for your working and driving pleasure. Learn more about what's next for the Silverado 2500 HD below.
1. It's packed with power.
A new year brings a new engine. It's a 6.6L Turbo-Diesel engine that yields 910 lb.-ft of torque and 445 HP.
2. It's techy.
Towing is made easier with Trailer Sway Control and a Trailering Camera System. Add in the Diesel Exhaust Braking System and you have one smart vehicle.
3. It's a power lifter.
With a maximum payload of 3,543 lbs and the ability to tow up to 18,100 lbs, the Silverado 2500 can tackle the hardest of jobs.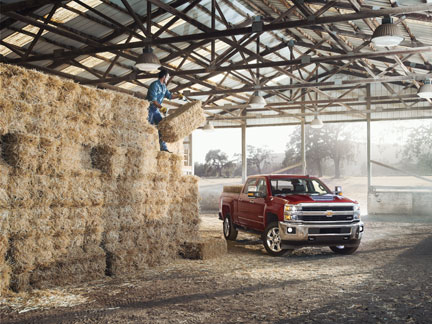 Super Bowl Trivia
The Super Bowl will be here in a couple of weeks. Are you ready for the big game? Test your Super Bowl knowledge below.
Which kicker holds the longest field goal in a Super Bowl?
Steve Christie took that record in Super Bowl XXVIII.
Which QB threw the most touchdowns in a Super Bowl?
Steve Young holds that record with 6 touchdowns. It happened in Super Bowl XXIX.
Which Super Bowl has the longest kick-off return for a touchdown and who returned the kick?
Jacoby Jones owns that record with a 108 yard return in Super Bowl XLVII.
What receiver had the most yards in a Super Bowl?
Jerry Rice had a huge 215 yards in Super Bowl XXIII.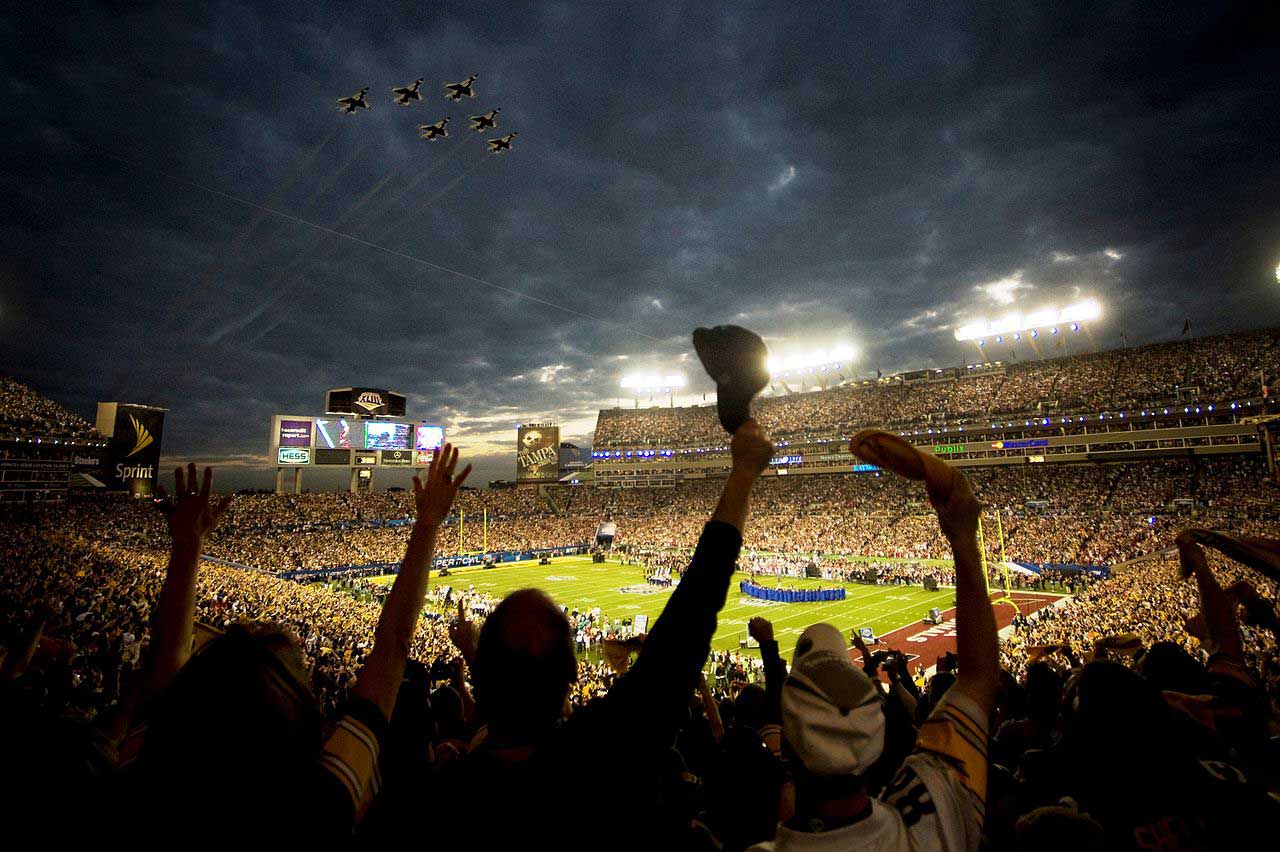 Holiday Events near Nederland, TX
It's the Christmas season. What are you doing about it? Looking for some holiday family events near Nederland, TX this Christmas season? Find some below.
Classic Movie Night - A Christmas Story
December 16
6:00 PM
Jefferson Theatre

Breakfast with Santa at Prien Lake Mall
Prien Lake Mall, Lake Charles
December 10
9:00 AM
Christmas Changes Everything
Fellow Baptist Church
1315 South 27th Street
Nederland, TX 77627
December 24
7:00 PM - 8:00 PM
Live music at the ol' barn.
No admission fee.
Teens, Tech and the new 2016 Chevrolet Malibu
The newly redesigned 2016 Chevy Malibu offers something for pretty much everyone in the family. This newest version of the Chevy Malibu has the team at JK Chevrolet really excited not only for a new look, a new hybrid engine option and several tech features that parents will love. What we're going to focus on in this post are the tech features parents can use to keep track of their driving habits and encourage safe driving habits for their kids, even when they are not in the car with them. This can be great, especially with new drivers in the family.

The all-new 2016 Chevrolet Malibu debuts a system, called Teen Driver, that provides parents with a tool to help encourage safe driving habits for their kids, even when they are not in the car with them.
It allows parents to set speed alerts, ...